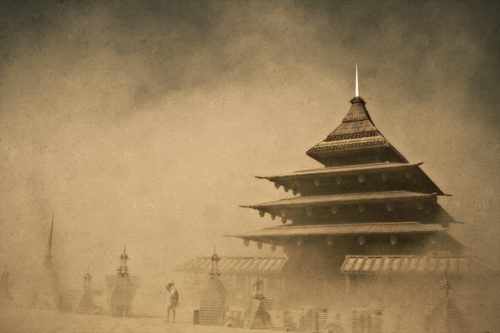 Celestial Bodies will continue the tradition of hosting activities and interactive events throughout the week as well as providing a warm and inviting space for burners to chill, chat, party and interact with the community.
Daily Events:
Sunday:
"Toga! Toga! Toga! – toga party!"  6PM – 8PM – New campmate initiation party – test your knowledge with burner trivia – win a prize, and a Playa Cosmo!
Monday:
"The bar is Open!" Lay your sins at our feet and start your burn right with a refreshing Playa Cosmo.
Journey to the Playa: Bringing an Art Installation to Burning Man the Hard Way 4-6PM The Journey Project is an interactive art piece that was inspired, in part, right here at BRC. Come listen as the artist spin tales of trials and tribulations about the many stops of the 'Journey' on its way Home.
Tuesday:
 "Tutu, Tattoo and Tarot Tuesday" 1PM – 6PM  – Totally tubular tattoos teamed with tantalizing tarot on Tuesday. Temp truth and tattoo your tush! Our skilled celestial astrologer will read your future while we adorn your gorgeous body!
Wednesday:
Naked Pub Crawl – 11AM – 2:30PM – We will be one of the camps on the infamous ride!
Thursday:
Spin Art Bike: Take a Ride… Make Wearable Art 10AM – 12:00PM and 4PM – 6PM – A self-propelled art machine that enhances your glorious garments. Bring or, remove your shirt, shorts or whatever and pedal that bad boy till it pops!
Tarot Readings: 4PM – 6PM – New love, new lust, need guidance?! Let our skilled tarot reader peer into the stars and reveal the answers, while you sip on a Playa Cosmo, of course.
Friday:
"Save the cross we need your wood" – Sexy Saint contest  – 11:30AM – 2:30PM – Don your holy garb and come parade as your favorite saint, voodoo deity, or multi armed god!  We will worship at your feet!
T-Shirt painting 2PM – 6PM – Celestial Bodies provides easels, stencils and spray paint to spiff up your T's. Create your 2017 Burn and Celestial Bodies Souvenirs.
In addition to these activities and events, we will have massage, and our Celestial Scope.